Your Fort Pierce Roofing Solution!
My Florida Roofing Company in Fort Pierce
Trust My Florida Roofing Contractor Fort Pierce to be your commercial or residential roofing contractor in Fort Pierce. We will provide you with a written estimate based on the best option for your budget and the condition of your roof. Depending on the age of your roof, a roof repair may be an option to extend the  life of your roof at less than the cost of a roof replacement. We are experienced in Metal, Tile Roofing, Shingle Roofing, 
Roof restoration may be an option instead of a roof replacement. Give us a call to learn more about our roof seal coat process. If your roof is not a candidate for a roof restoration system w will provide you with a  replacement option. Each project is assigned a project manager , who can be reached via cell or email – customer service is our number one priority at My Florida Roofing Contractor Fort Pierce, FL.
Being a homeowner means taking care of your home and one of the most essential things to care for is the health of your roof. When searching for contractors or roofers, you might discover My Florida Roofing Contractor, a roof repair company located in Fort Pierce, Florida that provides full-service residential and commercial roofing professionals. We guarantee quick work and wonderful customer service for all of our clients— whatever your expert needs may be.
"My Florida Roofing removed and replaced my roof after damage from Hurricane Matthew. The entire process was stellar, from permit application through final inspection. There was always a project manager on site or available by phone, the crew was professional and respected my property. I would recommend this company without hesitation. Well done!" – Dana Skipper (Stuart, FL)
Your Roof Is Our Passion. Let Us Assist You With Your Next Roofing Project.
Family Owned & Operated Since 2004. Call Us Today!
Fort Pierce Roofing Services
Discovered roof damage or suspect a leak?
Even the best building materials deteriorate over time so it's not uncommon to discover roof damage after years of wear and tear or after severe storms have passed. Undetected issues can lead to costly solutions in the future so it's important to inspect your roof regularly as preventative measures. Ensure your roof sealant is properly installed and in good shape, check for shingle damage, missing or loose shingles, clogged gutters, loose flashing, and contact us if you discover a problem. It can be easy to miss the signs of impending trouble but a yearly check can ensure the safety of your home and longevity of your roof-life.
Searching for roofing contractors in Fort Pierce?
While looking for roofers locally might give you a long list of companies, My Florida Roofing Contractor is all you need for your roofing goals. Having been around for 15-years, we have time tested experience in residential and commercial roofing, including repairs, restoration, sealant, and elastomeric coating services. With our A+ Better Business Bureau rating and wonderful reviews from past clients, we guarantee job satisfaction at a reasonable rate. Our thorough roof inspections can save you time and money if we detect an issue, and our insurance experts are one call away from helping you navigate your roof replacement claim today.
Contemplating some remodeling?
Whether you need repairs or have decided to do some remodeling, our experts are ready to help you achieve the look you desire. Our in-house consultants and contractors can go over roof designs, shingle colors, tile patterns, and materials available to build a long-lasting roof backed by our solid reputation and warranty policies. We guarantee quality service by our professionally trained contractors who'll provide detailed proposals that include labor charges, materials needed, work specifications, payment procedures, building permits required, warranty details, and approximate completion dates.
Contact Us Today!
Even the best roofs can leak over time so it's important to check yours regularly. If you see any missing or damaged shingles, loose flashing, damaged or worn materials, or suspect your roof sealant has failed due to water spots, contact us for an estimate and expert service. Stop looking for other roofing companies or contractors and don't hire untrained or uninsured contractors.
Call My Florida Roofing Contractor in Fort Pierce for your roof inspection, repair, restoration, remodel, and sealant needs today! We guarantee lightning fast, quality work and wonderful customer service with our A+ Better Business Bureau rating! Our licensed and insured contractors can be counted on for your home's safety and roof's longevity.
Schedule Your Free Estimate
There's no reason to wait – get a professional roof estimate, understand your options and make an informed decision!
"*" indicates required fields
Our Comprehensive Roofing Solutions
We offer a range of commercial and residential roofing services to help you keep your property safe, efficient and protected from Fort Pierce's weather conditions.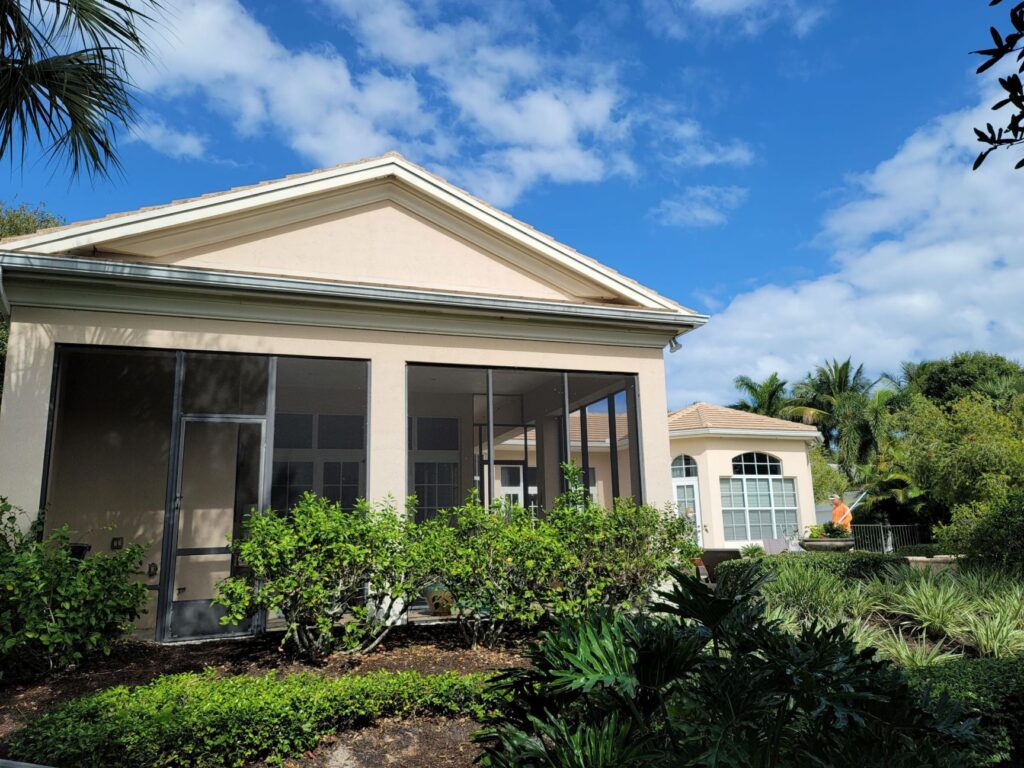 Residential Roofing
The roof of your home or property provides shelter,drainage and ventilation. The roof structure is covered with materials which overlap to make the roof water tight. Every roof has to be installed on a flat surface. If the roof decking is damaged, the sheathing will have to be replaced before applying any new roofing materials.
Roof Repairs
Our roofing services are the answer to any roof repair need you might have. The roof of your property provides shelter, 
drainage through gutters
 and 
roof ventilation
. The roof structure is covered with materials which overlap to make the roof water tight. Every roof has to be installed on a flat surface.
Commercial Roofing
Protect your business from harsh weather conditions with durable roofs provided My Florida Roofing Contractor. Serving customers in Treasure Coast, we provide commercial roofing services to fit your preferences, energy needs, building type and budget.
Seal Coating
Sealants are available in acrylic or silicone. My Florida Roofing Contractor , will work with you to determine which option is best for your roof based on the type of roof and budget. Seal Coating System is the perfect option to stop roof leaks on your commercial building  and save money on your energy costs.
A Project Manager Is Assigned To Every Customer!
We Make Roofing Easy!A Guide to Our Process
A Roofing Contractor  Locals Trust!
My Florida Roofing Contractor, which was formerly known as Reyes Group General Construction, was established in 2004. Rene Reyes is the Managing Director, Roofing Contractor, and Licensed Florida Building Inspector. Rene has over 25 years' experience in the roofing industry on all types of roofs: Tile roofs, Metal Roofs, Shingle Roofs, Roof repairs, etc. Rene began his career as a roofing mechanic, which helped him gain valuable experience with several notable Treasure Coast roofing companies. My Florida Roofing Contractor is proud to be the roofing contractor Vero Beach residents trust.