Best Roofers in Vero Beach, FL
We're the Go-To Roofers in Vero Beach
Vero Beach truly one of the treasures of Florida's Treasure Coast, with something here for just about everyone. But as longtime residents know, this haven for residents can be tough on your roof. Between damage from hurricanes, heavy rains, high winds, and even the sunshine we love so much, Vero Beach, FL residents need roofers they can trust to care for their roof and protect their homes and businesses. 
My Florida Roofing Contractor has been the go-to roofers for Vero Beach, FL homeowners and business owners for nearly two decades. As a locally based roofing company, we understand the unique demands of roofing in Florida—and we know how to protect roofs from the most common sources of damage in our area. With a full slate of high-quality roofing services and friendly service that our past customers rave about, we're here to be your #1 choice for roofing in Vero Beach!
"My Florida Roofing removed and replaced my roof after damage from Hurricane Matthew. The entire process was stellar, from permit application through final inspection. There was always a project manager on site or available by phone, the crew was professional and respected my property. I would recommend this company without hesitation. Well done!" – Dana Skipper (Stuart, FL)
Your Roof Is Our Passion. Let Us Assist You With Your Next Roofing Project.
Family Owned & Operated Since 2004. Call Us Today!
Full-Service Roofers in Vero Beach, FL
Some roofers are limited in their services offerings. This often leads to "one size fits all" solutions that may not be ideal for your roof, your needs, or your budget. As full-service roofers, we're able to truly meet all your roofing needs here at My Florida Roofing Contractor.
Residential Roofing Services
Your home keeps your family safe from the elements, and that starts with the roof over your head. At My Florida Roofing Contractor, we treat every residential roof as though it were protecting our own home. We offer timely, reliable roof repair services to fix damage and leaks, as well as roof replacements to build a brand-new roof for your home that will stand the test of time. We also work with a wide range of materials to ensure our customers get exactly what they want—whether it's traditional asphalt shingles or gorgeous, durable tile roofing.
Commercial Roofing Services
For almost every business, a commercial roof is one of your most important investments. That's because it has a crucial job in protecting your commercial property, your employees, and key assets such as equipment and stock your business needs to function. As a local business ourselves, we make it a priority to be the go-to roofers for businesses in Vero Beach, FL. Our commercial roofing services include repairs and seal coatings to extend the life of your roof, replacements to protect your business for decades, and ongoing commercial roof maintenance to ensure your commercial roof is always performing at its best.
A Commitment to Doing Things Right
One thing that sets us apart from other roofers in Vero Beach, FL is our commitment to doing things right. For us, that starts and ends with all the little things that discount roofers might overlook.
An excellent roofing experience starts with top-notch customer care. We communicate with our customers clearly throughout every roofing project, whether it's a simple repair or a complex roof replacement. We always take extra steps to keep our job sites clean, setting up Catch-All tarps before work begins and thoroughly inspecting the property after work has been completed. 
No matter what roofing service we're delivering, we never cut corners during our process. We perform reliable roof repairs, follow a rigorous process during restorations and coatings, and plan carefully before work begins on a roof replacement or new roof installation.
Start Today with a Roof Inspection from Our Experts!
If you're in need of a new roofing partner, we'd love the opportunity to make a difference for you. My Florida Roofing Contractor leads all roofers in Vero Beach, FL when it comes to service, quality, and care. 
If you suspect your roof has been damaged, or if it hasn't been inspected for a while, schedule an inspection today! Contact us to get started.
Schedule Your Free Estimate
There's no reason to wait – get a professional roof estimate, understand your options and make an informed decision!
"*" indicates required fields
Our Comprehensive Roofing Solutions
We offer a range of commercial and residential roofing services to help you keep your property safe, efficient and protected from Vero Beach's weather conditions.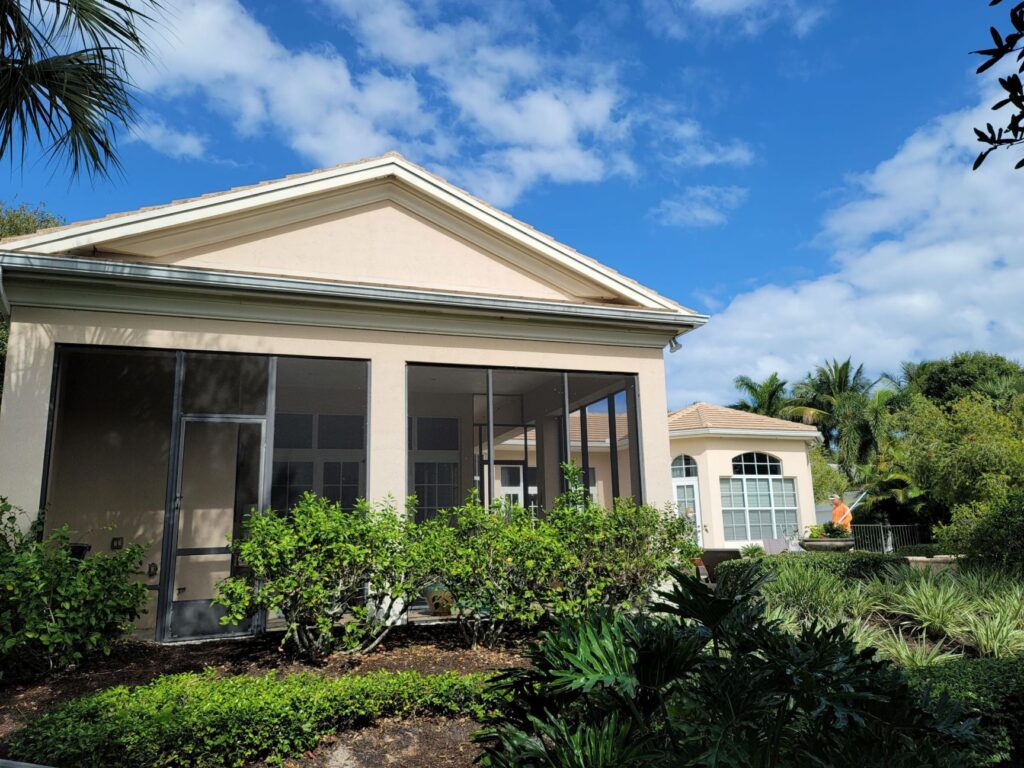 Residential Roofing
The roof of your home or property provides shelter,drainage and ventilation. The roof structure is covered with materials which overlap to make the roof water tight. Every roof has to be installed on a flat surface. If the roof decking is damaged, the sheathing will have to be replaced before applying any new roofing materials.
Roof Repairs
Our roofing services are the answer to any roof repair need you might have. The roof of your property provides shelter, 
drainage through gutters
 and 
roof ventilation
. The roof structure is covered with materials which overlap to make the roof water tight. Every roof has to be installed on a flat surface.
Commercial Roofing
Protect your business from harsh weather conditions with durable roofs provided My Florida Roofing Contractor. Serving customers in Treasure Coast, we provide commercial roofing services to fit your preferences, energy needs, building type and budget.
Seal Coating
Sealants are available in acrylic or silicone. My Florida Roofing Contractor , will work with you to determine which option is best for your roof based on the type of roof and budget. Seal Coating System is the perfect option to stop roof leaks on your commercial building  and save money on your energy costs.
A Project Manager Is Assigned To Every Customer!
We Make Roofing Easy!A Guide to Our Process
A Roofing Contractor  Locals Trust!
My Florida Roofing Contractor, which was formerly known as Reyes Group General Construction, was established in 2004. Rene Reyes is the Managing Director, Roofing Contractor, and Licensed Florida Building Inspector. Rene has over 25 years' experience in the roofing industry on all types of roofs: Tile roofs, Metal Roofs, Shingle Roofs, Roof repairs, etc. Rene began his career as a roofing mechanic, which helped him gain valuable experience with several notable Treasure Coast roofing companies. My Florida Roofing Contractor is proud to be the roofing contractor Vero Beach residents trust.
Your Roof Is Our Passion. Let Us Assist You With Your Next Roofing Project.
Family Owned & Operated since 2004. Call Us Today! (772) 453-7219